GUIDED BY MUSHROOMS IS VETERAN AND WOMEN OWNED
As featured in:
Guided By Mushrooms Latest Google Reviews
I'm definitely impressed by this company and the customer care is impeccable. The products are top of the line and the fact that is veteran...
read more
Great product and fast service. Highly recommended
Amazing service and products. Fast shipping. I have noticed a huge difference in my sleep and energy. Very happy and I am...
read more
Guided By Mushrooms Tinctures
THIRD PARTY LAB TESTED
MADE ON OUR FARM
FROM 100% FRUITING BODIES
SAME OR NEXT DAY SHIPPING
20 Percent Discount For First Time Buyers!
$

15.00 –

$

38.00

—

or subscribe and save

10%
$

15.00 –

$

38.00

—

or subscribe and save

10%
$

15.00 –

$

38.00

—

or subscribe and save

10%
From:
$

25.20
every 2 months
Guided By Mushrooms Umami Spice Blends

Top Chefs Recommend Our Umami Spice Blends
"We love and are thrilled to use Guided By Mushrooms Umami Spice Blends in our kitchen. The oyster mushroom powder. along with the tasteful spice combinations take our recipes at 20 Brix to the next level gourmet level."
Executive Chef David Marlow
20 Brix Wine Bar, Milford, Ohio
Latest Mushblog Posts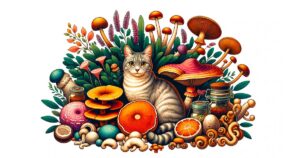 As cat owners, we all want the very best for our feline friends – a [...]
Learn about the benefits and safety of the shiitake mushroom pregnancy. Discover how to incorporate [...]
Key Takeaways: Medicinal Mushrooms for Dogs 1. Holistic Health Trend: Utilizing medicinal mushrooms for canine [...]
2 Comments
Guided By Mushrooms Currently Growing Strains
SPECKLED CHESTNUT
Pholiota adiposa
LION'S MANE
Hericium erinaceus
KING BLUE OYSTER
Pleurotus ostreatus
Italian oysters
Pleurotus pulmonarius
Are You A Chef?
If you are a chef at a kitchen and want to have the greatest ingredients for your customers, Guided By Mushrooms offers the freshest mushrooms in the Tri-State. We deliver directly to your kitchen.
Just fill out the form below to join the Guided By Mushrooms Chef's txt blast and you'll be sent a txt message when fresh picked mushrooms are available.
NOTE: We will NOT deliver or sell to non-commercial entities from this service.

Help GBM Feed The People
Guided by Mushrooms believes in helping our community. One of the ways we do this is by donating mushrooms to The House of Bread in Dayton, a kitchen that serves up 300+ free meals for people in need on a daily basis in our hometown of Dayton, Ohio. Mushrooms for meals at HOB can be sponsored for $10 a lb, and are completely tax deductible. You will be provided with a receipt for your donation at the end of the year from The House of Bread in your email box.
*By subscribing to a plan, you are giving Guided By Mushrooms permission to make a recurring monthly donation charged to the card you pay with.
You may opt-out at any time by sending an email to: [email protected], requesting that your subscription end.
Contact Guided By Mushrooms
Have a question, would like to become a customer, or anything else you might think of under the mycelium sun, send it to us by filling out the contact form below.